Hi again everyone, second post today.
Well I definately haven't missed the closing date for this one. The
Dutch Dare
crew are asking for a yellow and green themed card, and I knew just the stamp for the job. My new 'Peek A Bunny' Sugar Nellie, which I'd had a few days, but not used yet.
I so love these images, and this one was such a pleasure to colour in too. The background paper is from Daisy Bucket Designs, which I adore. The image was coloured with Copic's again. I used my new butterfly punch again, a bargain from Tesco. It punches just the right size to use with these images, and I do love butterflies, you'll be seeing a lot more of them too as spring approaches. I drew in the 'flight paths' with a Sakura Stardust pen for a subtle touch of sparkle. And added Prima flowers, some ribbon, and a curly clip with my tiny punched tag.
Again I decorated the inside. Everytime I complete a card it becomes my favourite that minute. It seems everytime I post I say 'I love this card'. But it's true. This really reminds me of spring, Easter, baby lambs skipping about the fields, easter egg hunts, and warmer weather.....Yipeeee. spring IS my absolute favourite time of the year. I actually love it, really I do.
Anyway thanks for looking, please feel free to leave me a comment if you so wish.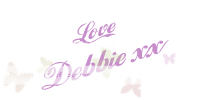 e